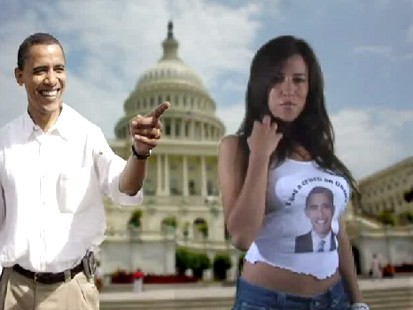 You have to wonder about this YOUTUBE vid, which is a "dedication" to Barack Obama. One could view the video as having a subliminal message: "Obama supporters are just shallow, syncophantic women who think hes sooooo cute and have no knowledge of the issues."
[ad#Google Adsense]
They're also pretty damn hot!
Is this chick simply an admiring fan? Or an operative of one of Obama's primary challengers?
Maybe Hillary is trying to communicate the message: Bimbos will be chasing Obama if he becomes president, and we can't have that, now can we?
Or maybe she's an undercover operative of the OBAMA camp, and she's going after the "MAXIM/ FHM" vote.
This vid is definitely easy to watch.
Is it persuasive?
Not hardly.
Short Link: